Most of us need to drink more water. It's recommended that adults drink at least 2 litres of water per day, but how many of us do? If you're trying to encourage better hydration at your workplace, you should consider installing a plumbed in water cooler.
We explain why a plumbed in water cooler is a great choice below.
Great taste
First of all, the taste of water from a plumbed in water cooler is better than mains water. A water cooler delivers water at just the right temperature and with no nasty after taste which comes from some of the chemicals used in our water supply.
It's well known that the water quality in the UK is one of the highest in the world, but the practice of making water safe to drink involves adding large amounts of chemicals to it. Once water leaves the source, it still has to get to its final destination and will travel through pipes, some of which have been underground since Victorian times.
We always recommend fitting a good quality filter to a water cooler, as this will significantly improve the taste of the water you get to drink.
Environmentally friendly
When Cactus first launched, we had an advertising line: "Cactus Water Systems delivers fresh filtered water to you, straight from the mains supply. No bottles. No lorries. No backache. No headache." And, this is as true today as it was then.
With a plumbed in water cooler, you don't have to worry about the disposal of those 19-litre bottles used to store water, or the emissions of the vehicles which deliver them. Removing the need refill bottles will significantly decrease the environmental impact of providing great tasting water at your workplace.
Cost
High up on any list must be the commercial impact of adding a water cooler to a workplace. Whether you choose to purchase a water cooler outright or have a rental agreement for a fully serviced unit – you will save money.
Bottled water cooler refills cost on average £6.00 per a 19-litre bottle. If an employee drinks the recommended 2 litres a day a 19-litre bottle will last 9.5 days. With the average number of days worked per year at say 225 (excluding weekend, public holidays and annual leave) at 2 litres per day that is a total of 26 bottles needed per person per year – a whopping £156.00 per year.
With a mains fed water cooler – you don't need to worry about the cost of refill bottles, as the water is delivered from a mains water source.
Space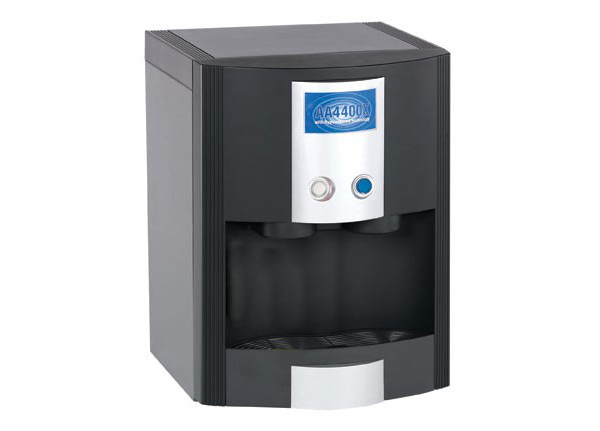 Limited space need not be a reason not to have a plumbed in water cooler. Where space is it a premium, and you cannot accommodate a floor standing unit, consider a countertop water cooler unit These operate just like a full-size unit but can sit out of the way, say in a kitchen area.
If a countertop unit is not an option, consider a unit that sits beneath the sink in the kitchen area with just the tap to find space for. Under counter water coolers are a great space-saving option – just bear in mind the cupboard that it sits in must be well ventilated as the cooler does produce quite a bit of heat, as they operate (just like your fridge).
Convenience
We have written about the advantages of a well hydrated workforce in a previous blog post. Proper hydration improves concentration and energy levels. By having fresh filtered water literally on tap, you never have to worry about the bottle water unit running dry with no bottles available to replace them and, of course, no need to nip to the shops for loads of single-use plastic bottles of water while you wait of the next delivery.
Design
When you have worked hard to create an office environment that reflects the values of your business, and of which you can be proud – you don't want the eyesore of a bottle cooler and stacked plastic bottles somewhere in sight of visitors or the inconvenience for those wishing to use the cooler and it being hidden away. There are many different water coolers to choose from, and many are designed to be an attractive and functional addition to your workplace.
Quick and easy installation
Here at Cactus Water Systems, we have a highly experienced team who can fit and install a plumbed in water cooler, with the minimum amount of hassle. The quality of mobile phone photos means nowadays we often do not need to survey a site before installation. Instead, our customers can send us pictures of the chosen location and water source.
If you're considering adding a water cooler to your workplace, don't hesitate to contact us We offer impartial, expert advice and are happy to discuss what type of water cooler would be best suited to your needs and location.
Blog image