As many plan to return to work after coronavirus (COVID-19) lockdown measures, in whatever shape that may be, we at Cactus Water Systems wanted to share the advice we are giving to clients about restarting water coolers and boilers, how to ensure they remain safe to use and the new range of handwashing stations we now offer.
Firstly however it is important to remember with existing common cold/coronaviruses, there's no evidence that COVID-19 can survive in drinking (or waste) waters. The known sources of transmission and infection are through breathing in and contact with the virus. Of these, the only risk to users is the external contact surfaces of the dispenser, particularly the controls.
Restarting water coolers
If water coolers have been switched off or not used for a short time (up to 2 – 3 days) the best course of action is to simply flush through the water unit with a minimum of 5 litres of water. By doing this any bacteria which may have built up because of changes in temperature and light intensity, which can affect water quality including taste and odour, will be cleared. To clean the unit so ready for reuse, sanitise the taps and dispensing area with food-safe sanitiser spray or wipes.
If water coolers have been switched off or not used for 4 weeks or more, particularly in work or school environments where staff have been furloughed or asked to work from home, then the unit should be sanitised and the filter cartridge replaced. Bacteria and toxins that could be harmful to consume will have multiplied during this prolonged period of non-use.
To organise water cooler sanitisation and filter changes, please call us.
Restarting water boilers
Where a water boiler has not been used for a short period, whilst it is turned off, sanitise the taps and dispensing area with food-safe sanitiser spray or wipes. Turn the water and power on and dispense as much water as possible to refresh the system, leave for 30 minutes to reheat and refill. Once again, dispense as much water as possible to refresh the system. The boiler is now ready for use.
However, if the boiler has not been used for a period of 4 weeks or more then the unit should be sanitised, descaled and the filter cartridge replaced.
Please call us to organise a descale, sanitisation and filter change for your water boiler.
Water cooler cleaning protocols
Water coolers are one of several high touchpoints in a communal space like an office and need to be part of the hygiene protocols being implemented across an office space.
For water coolers we are recommending the unit controls be wiped down, including the dispense point, with a surface sanitising spray. The frequency depends on the level of usage and whether cleaning will be carried out at an organisational level - as part of the cleaning routine - or if the user will be cleaning the unit after use. Where that is the case, clients are placing cleaning materials alongside the coolers.
As an extra measure, some unit manufacturers have developed touch panel protectors that are similar to plastic screen protectors to cover the controls which can then be removed after use and disposed of.
We would recommend that the cooler is sanitised as regularly as physically possible. As with the common cold, the technical structure of the COVID-19 virus means it's fragile and susceptible to effective treatment by disinfectant chemicals. It's therefore essential to implement external cleaning of all contact surfaces using a proprietary disinfectant cleaner and maintain scheduled routine internal sanitisations
Cleaning products
As the Government sets out their plan to get businesses open again, now is the ideal time to ensure you have materials necessary to clean and sanitise your equipment.
We can supply a range of materials including:
Sanitising kits for watercoolers
A handy kit providing everything necessary to keep appliances safe and sanitised and include sanitising spray, touch panel protector (certain machine types only) disposable gloves, and paper towels.
Hand sanitiser
A WHO recommended formulation with high alcohol content (80%). It comes in a handy spray bottle for good coverage of the front and backs of hands. Suitable for frequent use.
Surface spray
A professional multi-surface, food-safe, disinfectant cleaner with germicidal properties. Kills 99.9% of bacteria including MRSA, E-Coli, Listeria and Salmonella. Ideal for disinfecting everyday touchpoints such as surfaces, door handles, vehicle interiors, control panels, and touch screens.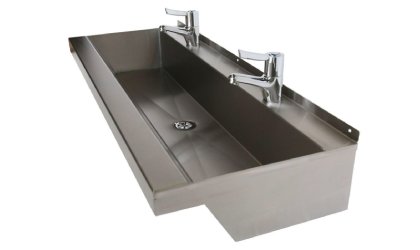 Handwash stations
With the need to regularly wash hands, many schools and organisations don't have sufficient sinks and so are looking to supplement them with additional units.
We have introduced a range of handwash stations, our most popular is the CWS WE310, which is a stainless-steel wash trough suitable for indoor or outdoor use. Five standard sizes are being manufactured with two, three, four and five single tap holes which enable the fitting of most mixer, time flow and the traditional lever or crosshead taps.
If you are looking for a total no-touch hand wash station, the trough can be fitted with infra-red taps or knee operated valves.
We are also able to supply portable handwash stations. The benefit is that clean and dirty water, soap, disposable towels, and bin are contained within one unit. The units are hands-free, with automated soap and warm water and can include a digital display to guide users through the correct way to wash their hands.
To learn more about our handwash stations range or discuss your organisations handwashing needs please call us.
Thanks to a number of industry experts who helped in compiling this guidance.
Blog image