CWS HT HyrdoBoost Bottle Filling Station
The HydroBoost Bottle Filling Station is a simple, compact and effective bottle filling unit with a no-touch, hands free sensor and automatic 20-second shut off timer suitable for indoor, high footfall areas.  The unit is surface mounted making it ideal for installations with limited wall depth.  It is available with or without a filter, the filter having a 3000 lite capacity before requiring replacement.  
Additionally, the unit helps reduce plastic waste through removing the need for single-use bottles and cups. As a non-refrigerated unit, it uses very little electricity (although it can be easily connected to a remote chiller if necessary). It is fully compliant with GreenSpec – the UK's foremost 'Green Building' resource – guidelines and WRAS certified.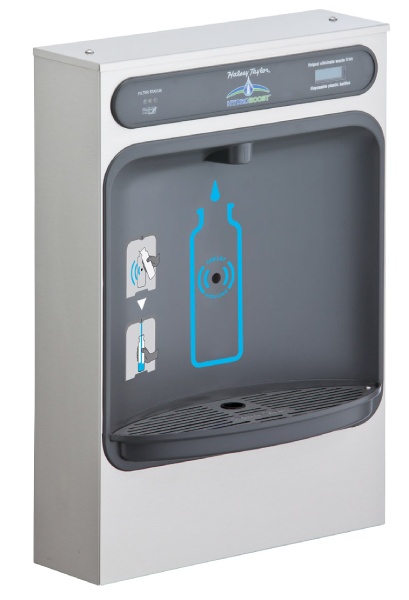 Features
Touchless, sensor-activated bottle filler designed for easy use and virus protection. 
Polished stainless-steel top, side and front panels
Can be paired to a remote chiller
Visual filter monitor with LED filter status indicator for when filter change required
Laminar flow provides clean fill with minimal splash.
Silver ion antimicrobial protection on key plastic components inhibits growth of mold and mildew.
Real drain system eliminates standing water.
WRAS Approved, BREEAM approved
ADA Approved for access 
Performance data
Power Supply: 220/240Volt, 50hz
Suitable for indoor use only